Streets
At the Pawnee City, Nebraska, we are committed to providing safe, high quality roads and sidewalks. Feel free to call our office if you have any questions or need assistance with any matters related streets and roads within the City Limits.
Snow Emergency Route Designated Areas
The following streets in the City of Pawnee City, Nebraska are hereby declared to be Snow Emergency Routes.
No person shall park or allow to remain parked, any vehicle on any street designated as the Snow Emergency Route following an accumulation of snow and/or ice of two (2") inches or more in one (1) snowfall. This prohibition shall continue on a street until said street is cleared of snow.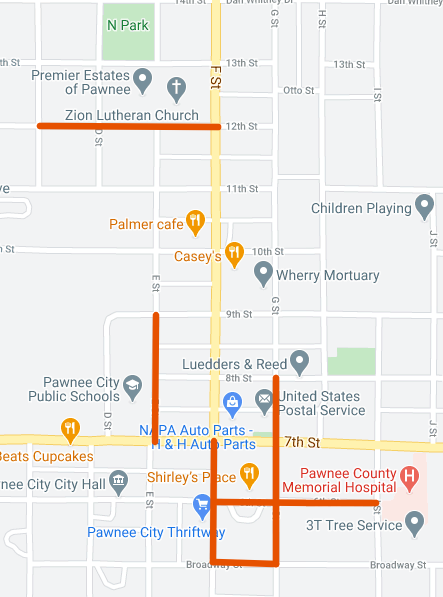 12th Street from C Street to F Street (Hwy 50)
E Street from 7th Street to 9th Street
F Street from 5th Street to 7th Street
G Street from 5th Street to 8th Street
5th Street from G Street to F Street
6th Street from F Street to I Street (Hospital)
Relevant Documents